Non-adhesive smart SmartFoil film without self-adhesive layer, used to laminated smartfoil
Custom Nonstandard Shapes and Dimensions
Smart Film Privacy Protection:A key against peeping,intelligent control.more convenient privacy protection.
Space Partition:Break the fixed space strong effect of extended space,privacy,open,do whatever you want.
Touch screen and projection:Family cinema,office projection,one glass gets all done.
Switchable Smart Film SmartFoil Safe protection:Against impact,it can effectively prevent the glass fragments to splash even if frag mentation.
Environmental protection and sound insulation:Not only effectively block 99%UV,but also can stop the noise pollution to creat a quiet world.
Non-Adhesive Smart Film SmartFoil usually to be laminated between 2 layers glass, in order to make switchable smart glass, it will need EVA film lamination furnace to do the lamination.

Based on this property,the target customer of the non-adhesive smart film is the decorative glass manufacturer and trader. We have more than 10 years of experience in glass lamination, Provide technician on-site guidance, hardware configuration, technical training, etc. We have long-term cooperation with many glass factories in China and three glass factories abroad.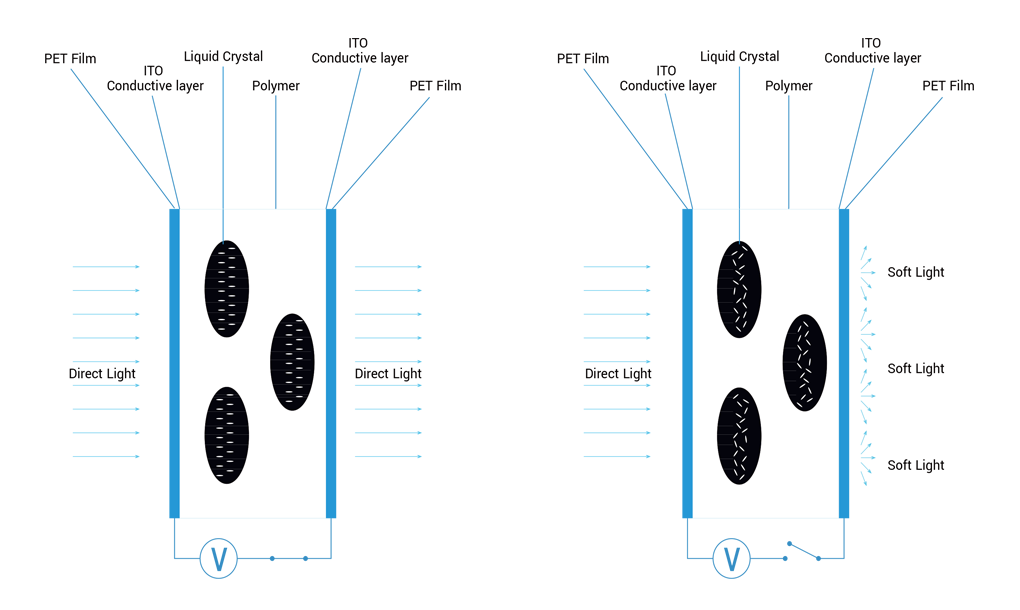 Application
Switchable Smart Privacy Non-adhesive Film Laminate with EVA Film to Privacy Smart Glass, we have more than 12 years of experience for Lamination Dimmable Smart Partition Glass.