With a EVA adhesive at rear side of the non-adhesive smart film, self adhesive smart film can be easily peel and stick to the existing glass surface, no need to change glass, easy installation, make your home to smart by yourself. A simple ON – OFF switches the film from being clear (transparent) to frosted (opaque).
Custom Nonstandard Shapes and Dimensions
Self-adhesive, easily fitted to existing glass
Smart Film Privacy Protection:A key against peeping, intelligent control.more convenient privacy protection.
Space Partition:Break the fixed space strong effect of extended space,privacy,open,do whatever you want.
Touch screen and projection:Family cinema,office projection,one glass gets all done.
PDLC Switchable Smart Film Safe protection:Against impact,it can effectively prevent the glass fragments to splash even if frag mentation.
Environmental protection and sound insulation:Not only effectively block 99%UV,but also can stop the noise pollution to creat a quiet world.
Adhesive Smart Window Film is a kind of stick-on smart film, which can be applied to existing glass and then works as smart glass.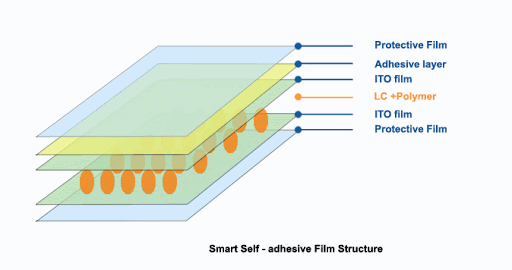 It is just like sticking explosion-proof film on the car window. Adhesive Switchable Smart Film is very widely used by individual household, engineering company and trading company to provide exellent building and decoration solutions. Our factory will provide full set of kits and course for you to install it.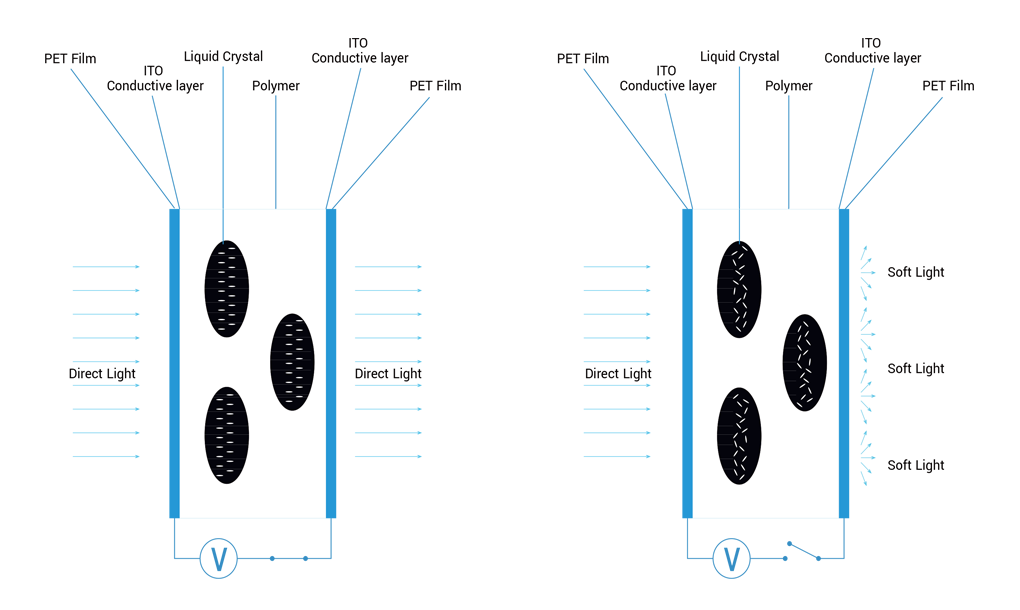 Switchable Smart Privacy Non-adhesive Film Laminate with EVA Film to Privacy Smart Glass, we have more than 12 years of experience for Lamination Dimmable Smart Partition Glass.